Rubber cultivation: How to restore soil health?
The FERTIM project, underway since 2015 and which will continue until at least 2024, is a concrete example of the Group's commitment to sustainable rubber cultivation.
Funded by the Institut Français du Caoutchouc [French Rubber Institute], and the companies Michelin, SIPH and Socfin, the aim of this project is to improve the fertility of rubber plantations during their immature phase.
The Cirad, IRD, University of Clermont Auvergne, University of Nangui Abrogoua in Abidjan, Ivory Coast, and the project's financiers have jointly developed and tested new tools and practices to improve understanding of the biological and mineral functions of immature rubber plantations.
Decoding rubber cultivation
The rubber tree, a native of the Amazon basin, is primarily cultivated in southeast Asia, and in Africa to a lesser degree.
Rootstock is raised in a nursery for 6 months before being grafted. These small rubber trees are then transplanted into the field. After about 6 years, they reach maturity, which allows tapping to begin through an incision in the bark. Good bark management and a strict operating system allows latex to be produced for about 30 years. It must then be replanted with a new generation of rubber trees in order to limit pressure on new plots of land, and the logging techniques at the end of the cycle and subsequent replanting have an influence on soil structure and health.
Contributing to the agroecological transition of rubber plantations
Within the framework of the FERTIM project, several techniques falling within an agroecological approach are being trialed, and different levels of logging residue return tested, combined with the planting of a legume cover crop.
The initial results and observations from a team of researchers at 2 sites in Ivory Coast since 2017 confirm the agronomic interest of this agroecological solution, which allows for the rapid restoration of main soil functions 18 months after the disruptions linked to logging, as well as a spectacular increase in the levels of carbon stored in the soil, which foretells a sustainable improvement in fertility and improves the overall footprint of the natural rubber industry.
Scientists are continuing the study to also validate the best compromise between restoring soil fertility through the return of residues and the economic value of the wood away from the land.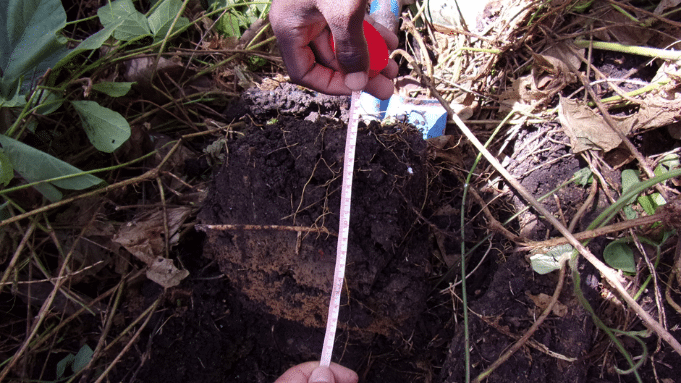 Humic horizon developed over a depth of 15 cm, 6 years after replanting, with return of logging residues and a cover crop planted.
Promising results from agroecological practices for sustainable soil management
The data gathered plays a role in creating a tool to help manage the fertilization of immature rubber plantations, which will ultimately allow for reasoned fertilization and greatly reduce the use of chemical fertilizers.
These results, which are significant for rubber plantation owners, were published in November in Science of the Total Environment. They constitute a major breakthrough for producers in terms of optimizing costs and in the ecological sustainability of plantations.