Natural rubber at a glance
A unique material offering unparalled properties such as elasticity, permeability, mechanical resistance, and electrical insulation.
What is Natural Rubber?
Natural rubber, the tears of a tree - Rubber is harvested by slicing the bark of the rubber tree. The term rubber comes from the indigenous Amazonian words "kau" and "chuk", which together mean "weeping wood".
Rubber cultivation
Native to the Amazon rainforest, the hevea brasiliensis (rubber tree) grows well in all tropical areas. Today, most of the production takes place in South East Asia.
The principle of rubber farming is simple. Trees are planted, about 550 per hectare, and grow for 6 or 7 years. The latex can then be collected over a period of 20 to 30 years. A single rubber tree produces 60-150 kg of rubber during its lifetime.
The collected latex can be stored in liquid or coagulated form. It is then processed in factories where it is washed, homogenized, and dried before being supplied to industry.
The natural rubber industry uses few chemical inputs such as fertilizers and pesticides. It helps to preserve the soil from erosion and plays a role in stabilizing the climate. Rubber farming acts as a carbon trap.
Finally, trees are also useful at the end of their life. Their wood can be used either to make furniture or as a source of renewable energy.
Natural Rubber at a glance
1 Ha.
~ 500 rubber trees = up to 2 tons of natural rubber/year
14 MT
13 Mha 90% in Asia (2021/2022)
250 tons
of carbon stored per hectare during the trees' lifespan
85%
of world production is done by smallholders
¾ of Natural Rubber
used to make tires
~ 6M farmers,
~ 30M jobs direct & indirect worldwide, ~ 2M farmers in Michelin's supply chain
Natural rubber value chain
Michelin supports a responsible and resilient management of the natural rubber value chain.
It is essential that rubber is produced in a responsible manner to contribute to the sustainable mobility of tomorrow.
The five main groups of stakeholders involved in the value chain are: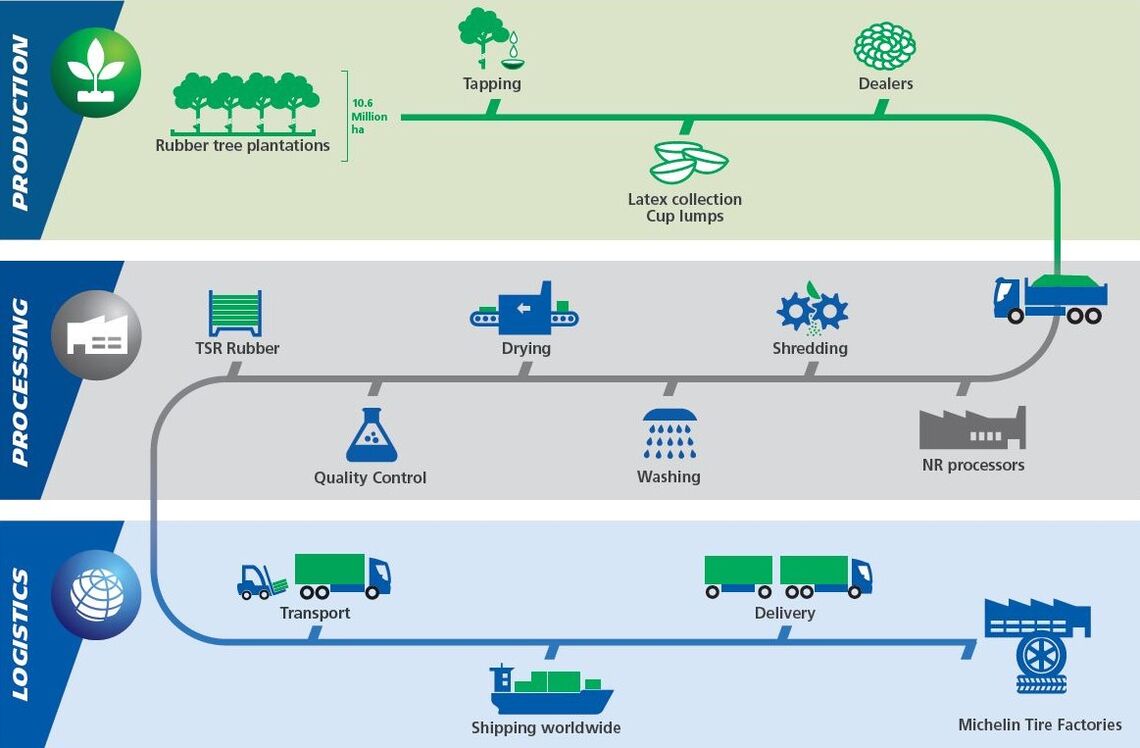 The five main groups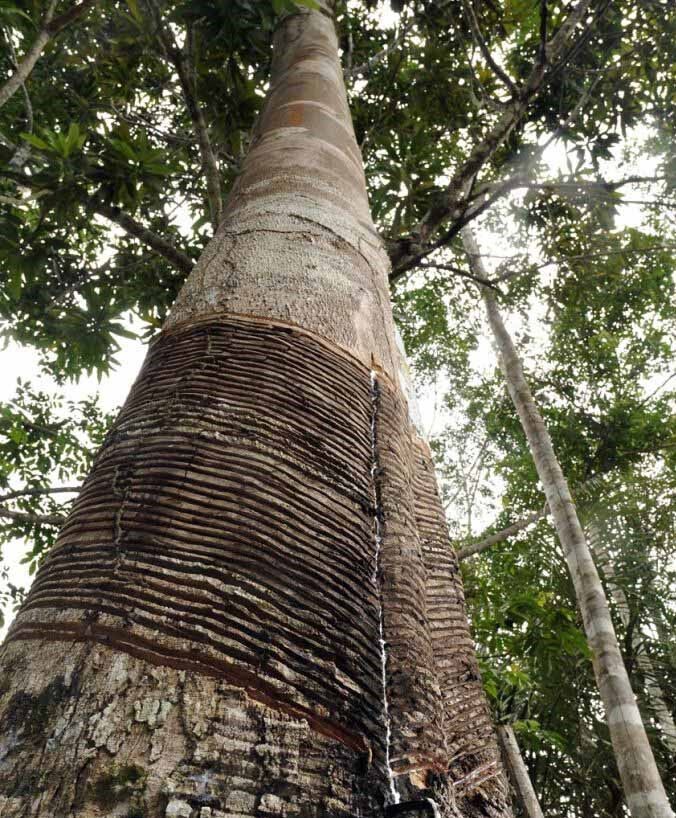 Producers
harvest the latex from rubber trees. It is estimated that 85% of the cultivated rubber tree areas in the world are made up of very small farms (average of 2 to 3 Ha.).
Dealers
collect and purchase natural rubber from producers, typically from small farms to sell to processing plants. Sometimes there are several dealers, resulting in a complex supply chain.
Processing factories
process the raw material into bales of various grades of processed natural rubber intended for the manufacturing industry.
Traders or Brokers
buy processed natural rubber and sell it mainly to manufacturers.
Manufacturers
buy processed natural rubber and incorporate it into the production of finished or semi-finished products.
Cultivating, harvesting and processing natural rubber provides stakeholders in the supply chain with regular and sustainable revenue while contributing to the development of rural areas.
Natural Rubber in tires
A highly wear resistant material particularly suited for earthmovers, trucks and planes.
There is no mobility without tires...and no high-performance tires without natural rubber: its properties make it unique.
A tire is above all rubber, a large proportion of which is natural rubber. The amount used depends therefore on the size and the type of tire.
The MICHELIN GC5 earthmover tire is the largest on the market; it requires around one tonne of natural rubber.

Finally, sustainable natural rubber contributes to the Group's 100% sustainable tire ambition.